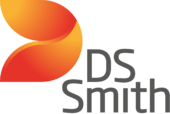 DS Smith is a leading European company for the production of customized packaging with an emphasis on superior design and local service close to the customer's premises. With a product portfolio that includes transport packaging, sales packaging, promotional and display packaging, customized protective packaging and industrial packaging, DS Smith meets all market requirements. It operates globally in three divisions: packaging, plastics and paper. With a team of over 28,000 packaging enthusiasts around the world, our aim is to make our employees feel valued and buy into what we as a business aim to achieve. We strongly support the importance of an internal culture that focuses on ambition and honesty.
We encourage employees to embrace our five core values: to care, to challenge ourselves, to trust us, to react, to be persistent. These core values guide our decision-making and shape the company's policies and practices. This enables us to successfully achieve our strategic goals and meet the needs of all our stakeholders. More information at www.dssmith.com
DS Smith Skopje is hiring:
Financial Business Partner
We are hiring a highly motivated person who is looking for new challenges in his career. Your responsibilities will relate to the fulfillment of an effective production process that will meet the expectations of the business, efficiency in operations, achievement of positive results, monitoring and improvement of quality, reduction of waste as well as promotion and maintenance of high standards for safety and health in work.

Qualifications required:
Faculty of Economy
Having a minimum of 3-5 years of work experience in the same or similar position
Activly using of English language
Knowledge of computer usage – MS Office and SAP system
Having a driver's license - B category
Required abilities and skills:
Excellent organizational and communication skills
Excellent people management skills including communication, training and leadership abilities
Motivated and stable person
Experience in process development and project improvement
Initiative and commitment to results
Ability to set priorities and work within given deadlines
Work tasks and responsibilities:
General:
Organization of finance department, people coordination, task allocation, delegation of responsibilities
Ensure compliance with local legislation and Group policies and coordinate other colleagues in terms of compliance
Proactive approach, analytical skills, open mind
Good presentation skills
Able for multitasking and work under pressure
Production of monthly report of budget/forecast/prior year variances and follow up actions to meet targets.
Management of accounting and reporting flows (including HFM reporting).
Responsible for monthly financial reporting close
Submits required financial reports, forecasts, budgets, and analyses accurate and on time in accordance with Corporate deadlines.
Ad hoc reporting and analysis for local management team, operations & commercial departments.
Actively participating in yearly planning process.
Implement and maintain value driving KPI reports that support the delivery of strategic and operational performance objectives.
Regular monitoring of OPEX on cost center basis, coordinate with colleagues in order to keep costs under control
Takes active part in planning and forecasting processes, prepares accurate and timely reports
Proactively participates in database building and maintenance, develops new reports
Detailed analysis of P&L and BS, able to explain differences of actuals against budget and forecast, ensure correct cost and revenue allocation
Coordinating month end closure activities: participating in country/cluster/sub-regional calls, calculating accruals, deferrals and preparing margin analysis
Provide an explanation of business reasons behind the numbers and understand why figures developed in a way they did.
Sales and operations:
Preparing business cases for sales and operation to support their decision making
Provides analytical support to Commercial and Operation team
Effectively works with other functional teams
Complete month end reviews on customer accounts including revenue and cost accruals tracking as well as margin reporting and forecasting to senior members of the finance community
Identify any financial risks and develop mitigation plans associated with the customer P&L, customer contract and supplier relationships / contracts


What do we offer: work in an international company, in a dynamic atmosphere, with the opportunity for personal and professional development.
All interested candidates who meet the above qualifications should submit their CV using the using the Fast Apply option not later than 31.05.2023

Only those applications that meet the criteria listed above will be invited for an interview.